"my magic is unwritten

But when the sea turns black

It will leave my shape behind"








This is about an experience, about the magic of women at work, of being a mother and being an artist.

There was a feminine mood to this one from the beginning. When Benedetta asked me to participate in the exhibition, she read to me a poem by Audre Lorde. It was to be an all-female exhibition, 'about the power of leaving traces, and using traces as our power, not weapons'.

The plan was that my partner and toddler accompanied me to Portugal to install my work. As I was still breastfeeding, we needed travel as a family – my partner covering childcare as I worked to set up the exhibition. These are the things we were still working out with a little one; and post pandemic, we were a little rusty with these practicalities. Gratitude, though, that I could say yes to this opportunity and nourish my artistic life that has inevitably been a little neglected since becoming a parent. When it became apparent that my partner couldn't come with me the night before we were due to leave, I went through a trajectory of emotions; disappointment being the first. I assumed that I couldn't do this alone. Perhaps my confidence had worn a little; my adventurer spirit somewhat out of practice. That night, I had a dream that very clearly told me I should go. I woke up emboldened and clear. I went, and my daughter came too.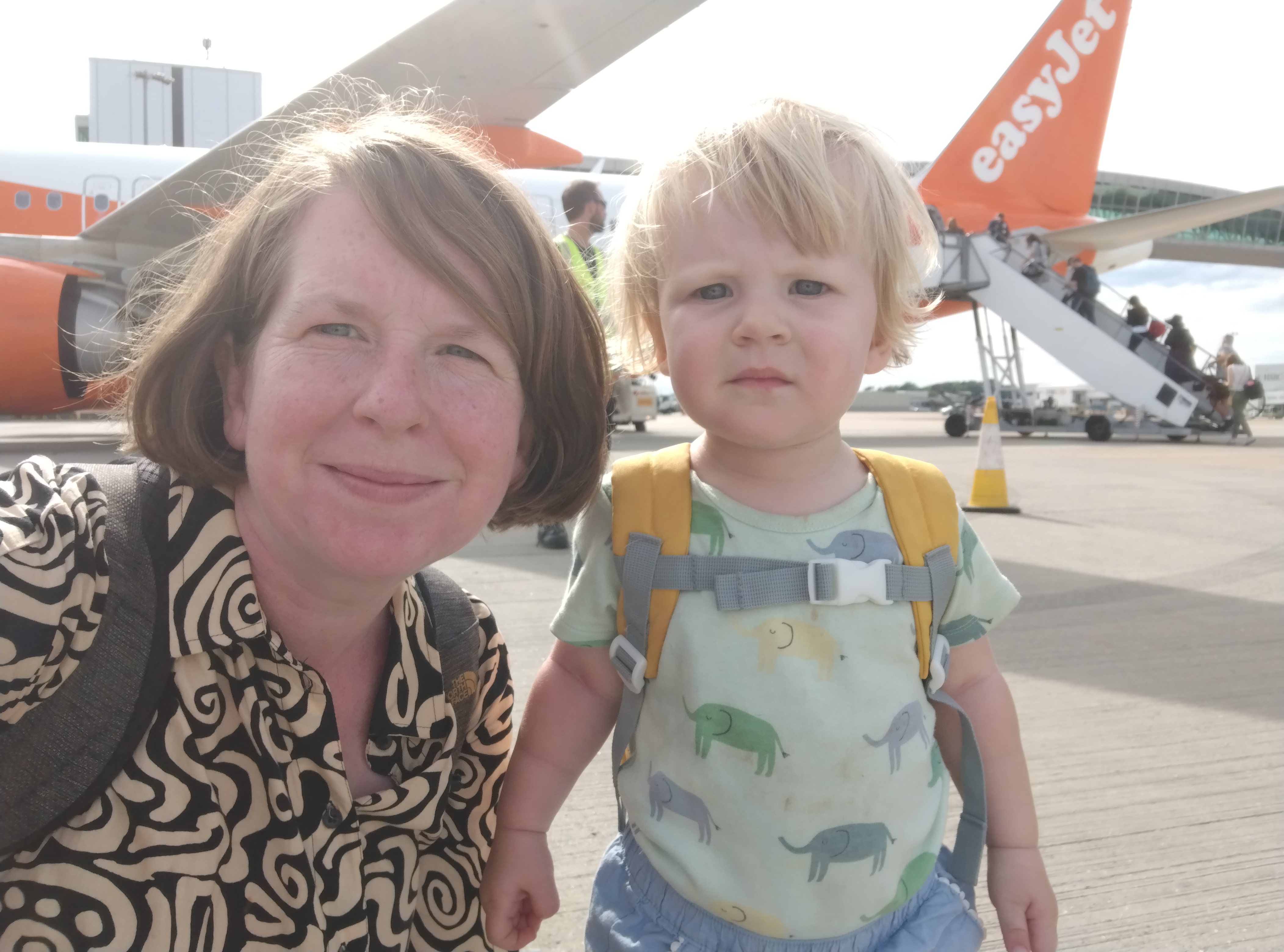 Vita and I arrived in Portugal and were driven through the wildfires that were ravishing the region. I held my nerve as the sky outside went dark with smoke, and as we left the car the air smelt like a firepit, ash falling from the sky like snow.

But the thing I want to write about is the unwritten magic that unfolded. About how this journey with my daughter opened up such a feeling of connection and the learning about the artistry of creative practice that came with it. I want to write about the feeling of being held by 'strangers' and the comprehension of what it is to work kindly, caringly, interconnectedly. Of my acquired apologetical tendencies being shattered by the kindness of a group of women (and a scattering of men).





Yes, setting up an exhibition with a 21-month-old was pretty demanding at times. Vita wanted my attention pretty much all the time, to go to the playground, to pick up the paintbrush and paint, with me, on these freshly-painted walls I was working within. I felt like most people in Aveiro had ample chance to glimpse my boobs at one point or another, as I was breastfeeding on demand wherever we went.




As time went by, I had an evolving feeling of being held, very joyfully by the people I encountered. The feeling of being looked out for. Of being noticed as I did this alone, watchful eyes all around, jumping in to help just as I needed it. Bringing me food, making Vita laugh, distracting her to give me a moment to work. The curators sitting on the gallery floor, painting shapes for my installation as I directed them on with my toddler at my breast. We were invited out, included in events; so that we would be part of things. Connected.


In other, perhaps more formal (traditional?, patriarchal?), contexts I know I would have felt like an intruder - unprofessional at bringing my toddler with me, who would inevitably disrupt, make noise, interrupt mine and other's schedules, their peace. Being a 'nuisance'. Mixing work with family / (life?); the big faux-pas. I have felt this before since Vita was born, and the shame and isolation that comes with it. Would I have been able to sit there breastfeeding as we discussed where screens are placed in other parallel scenarios? How many women before now, would have to hide and relegate their 'motherhood' in order to fit into and bow down to the artistic establishment?


The Magic Carpet; which sits in the title of the exhibition (and creative programme it sparked from) is our route away from this modality; "for travelling across the world in a twinkling of an eye", writes the curator, Benedetta Carpi De Resmini. Of course, I see now, this magic was integral to everything about this experience and how it unfolded. Benedetta writes: 'This fantastic device is also referring to a constantly mutating story to rewrite, reread and alter ad infinitum. This book of mirrorings becomes here a convincing metaphor of the power of culture to change the mistrust and confrontation into intercultural dialogue, mutual understanding, respect and even love." … "The main concept that underlies the whole project is related to the idea of transformation and mutation."


Images: Performance by Verónica Troncoso in the Magic Carpets Landed exhibition



I sit on the magic carpet breastfeeding my daughter once again, in the midst of the exhibition flurry, feeling entirely and resolutely, at 'home'. My faith in how I fit into these spaces transformed by love.





Vita and I rode in a taxi back to the airport with two artists and their families returning to Rome. Their older girls wanted to sit either side of Vita, which they did, and tickled her hand and giggled with her all the journey. Hugs and goodbyes at the airport. A warm heart.




Something has been happening in my work since then. It has been needing to happen for a long time. That I can no longer not bring myself into my work. And that I can no longer not bring my work into my life. A well overdue dichotomy that needed upturning.


And lately, at home, I find myself getting so busy, so overloaded I feel I don't have space for the kind of kindness I felt in this extended moment I wanted to write about. But experiences don't disappear, they weave themselves in, flashes reappear and bring us back to ourselves, create an opening, a lifeline. They leave their shape behind. I hope I can bring a taste of this shape to whatever happens next.